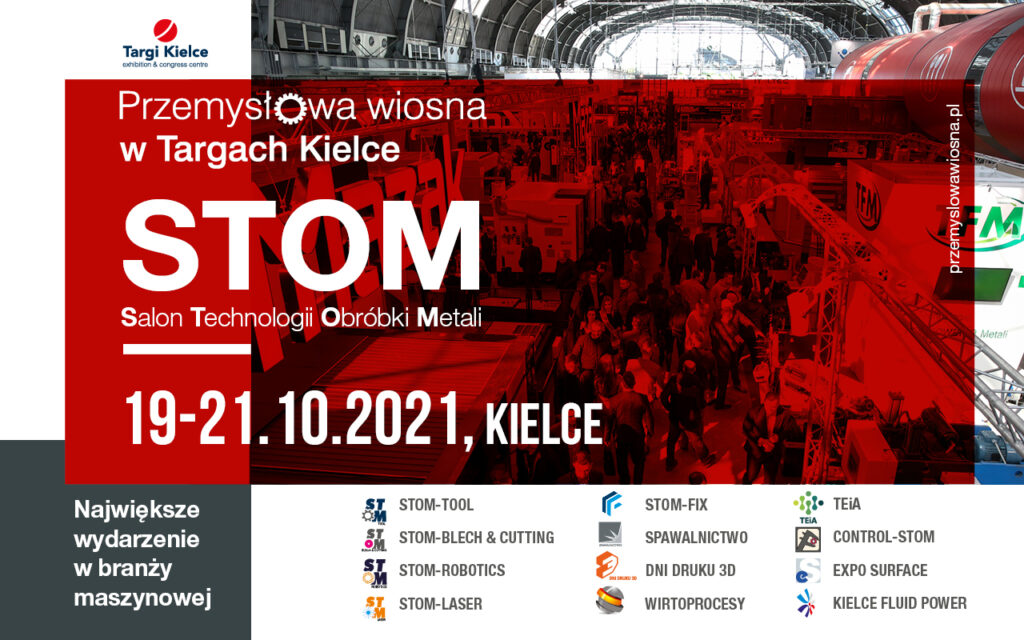 The STOM series with accompanying events and the METAL Foundry Fair will be held at Kielce Trade Fairs in autumn 2021.
The dates of individual exhibition events organized at Kielce Trade Fairs in 2020 depended primarily on the epidemiological situation. In September, we managed to organize the STOM fair, while the METAL Foundry Fair, so far held in a two-year cycle, after consultations with partners and exhibitors, was moved to 2021.
Of course, this is not the time for excessive optimism, but the sanitary restrictions introduced in our country are bringing the intended effects. The prospect of vaccination against the coronavirus also allows us to look a bit more positively to the future. Nevertheless, the trade fair calendar will still require non-standard actions, adapted to the current situation.
The most optimal date for organizing truly industrial events will be the fall of 2021 once again. At the same time, there will be undertakings that are part of the cycle of each industry branch. These include: STOM-TOOL (machines and tools), STOM-BLECH & CUTTING (sheet metal processing and cutting), STOM-LASER (laser technologies), STOM-ROBOTICS (robotization and automation), EXPO-SURFACE (surface treatment), CONTROL-STOM (measurement technologies), KIELCE FLUID POWER (pneumatics), WELDING, TEiA (specialist electronics), WIRTOPROCESSES (prototyping), 3D PRINTING DAYS, but also the International Fair of Technologies for METAL Foundry, including the Fair of Industrial Measurement Technology and Nondestructive Testing CONTROL-TECH.
– We sincerely hope that the situation related to the coronavirus pandemic will stabilize until the organization of these events and will allow for the implementation of these projects on a timely and full scale. We are receiving signals mainly from the event partners, but also from exhibitors that the industry lacks face-to-face meetings and the opportunity to learn about new technologies live. Both STOM events and the METAL Fair have for many years been a place that connects people and innovations from around the world. This is what influences their international success and prestige. The organization of events in the fall seems to be the most convenient time, taking into account the current situation – says Piotr Pawelec, project manager.
We invite you to participate in industrial events
from 19 to 21 October 2021.

Article in partnership with Targi Kielce – not sponsored. e-cnc-art.com invites you to this event.